Site Inspection
Site inspections are the most effective means of identifying hazardous conditions at the work site.
The site inspection focuses on the implementation of risk controls used by contractors following the work health and safety (WHS) management plan assessment. The intent of the site inspection is to benchmark the safety practices observed on site against the criteria contained in the checklist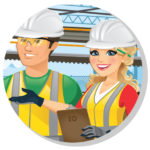 Inspections are necessary to:
Identify aspects of the working environment and work tasks that could contribute to injury/damage.

Review workplace standards in accordance with legal and company requirements

Provide a systematic means, for those who are at risk of injury, to help control the working conditions.